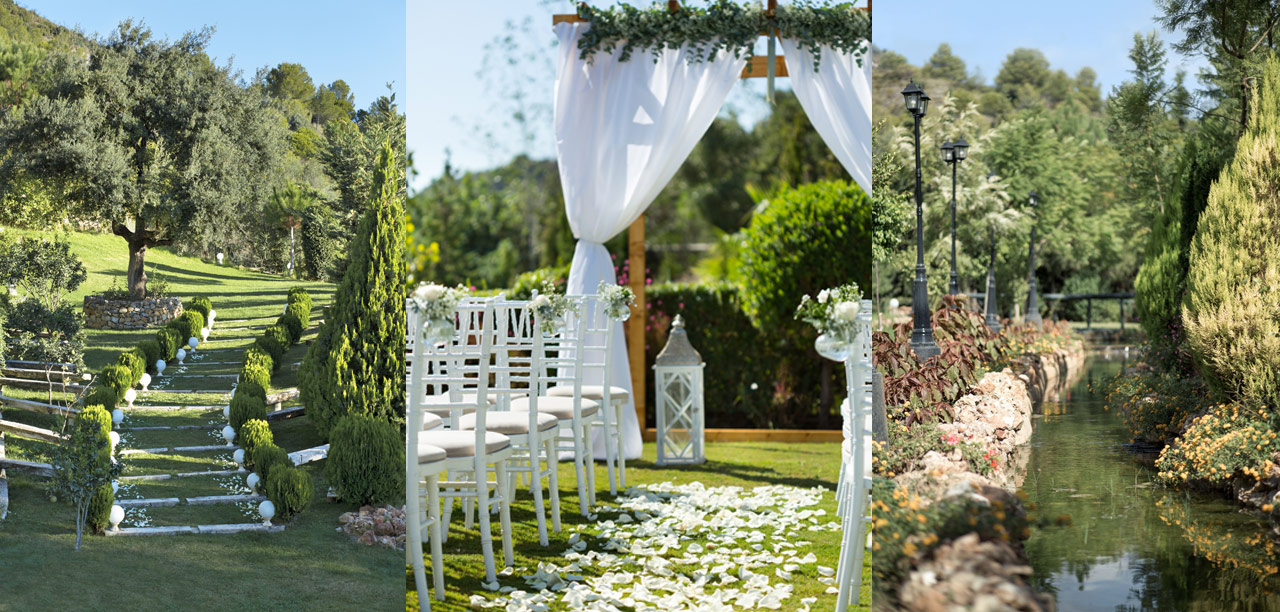 FINCA VILLA PALMA Five minutes from the city center, we find this unique property in the middle of nature, perfect to celebrate and personalize your event in Marbella if you are thinking of making a celebration with Mediterranean charm. It stands out for its impressive extension of 14,000 meters of garden that offers endless possibilities to celebrate and personalize your event.
This space stands out for its gardens, walkways, waterfalls and unique corners, where you can enjoy a very pleasant atmosphere with beautiful views of the bay. If you make your event at night, you will be surprised by the indirect lighting of this space, which achieves a very elegant effect for your celebration. It has a covered lounge with capacity for about 250 guests.
Finca Villa Palma is equipped with all the services to celebrate your wedding or event with a personal and different style. Its porch decorated colonial style is ideal to make the cocktail, and the garden area will be perfect as a photographic setting in which to immortalize the event.
It has its own kitchen, as well as a very welcoming environment for civil ceremonies. If you celebrate your wedding at Finca Villa Palma, you will also have a courtesy room for the bride and groom.
Facilities:
Kitchen fully equiped
Own parking
Wardrobe
Events:
Ceremony
Celebrating weddings at lunches and dinners
Open bar
Celebrating First Communion
Celebrating Christening
Celebrating Social Events
Celebrating Gala Dinner
Services:
Activities in our gardens
Exhibitions in our room and our gardens, including large objects: cars, machinery, etc.
Audiovisual screen / barrel projections / PA system
Decoration
Services included Finca Villa Palma
Menu tasting included for 6 people at weddings exceeding 100 diners
Seating Plan
Exhibition of your wedding souvenirs
Minutes
Floral Decoration
---
– Encourage your celebrations of magic –